So I thought I would give an update on the bike, but start a new project type thread for everyone's perusal and enjoyment.
Day 1.
Picked her up from the PO, a cycle shop owner that promised me lots over the phone and delivered little in person. Bike was as described and looked good except for a dead battery and some extra grief I wasn't counting on (apparently his wife didn't like that he accepted a lower offer on the bike haha).
1974 CB550 K0. Stock except for the wicked handle bars/seat combo and some older Mac (I think) 4-2 pipes with no baffles. Bad paint job (or three) in the past, bobbed front fender, a little bit of road rash on the points cover from a tip, thats about it.
Rode it around the seller's parking lot and trailered it home after considering driving it on cracked tires and sans license haha.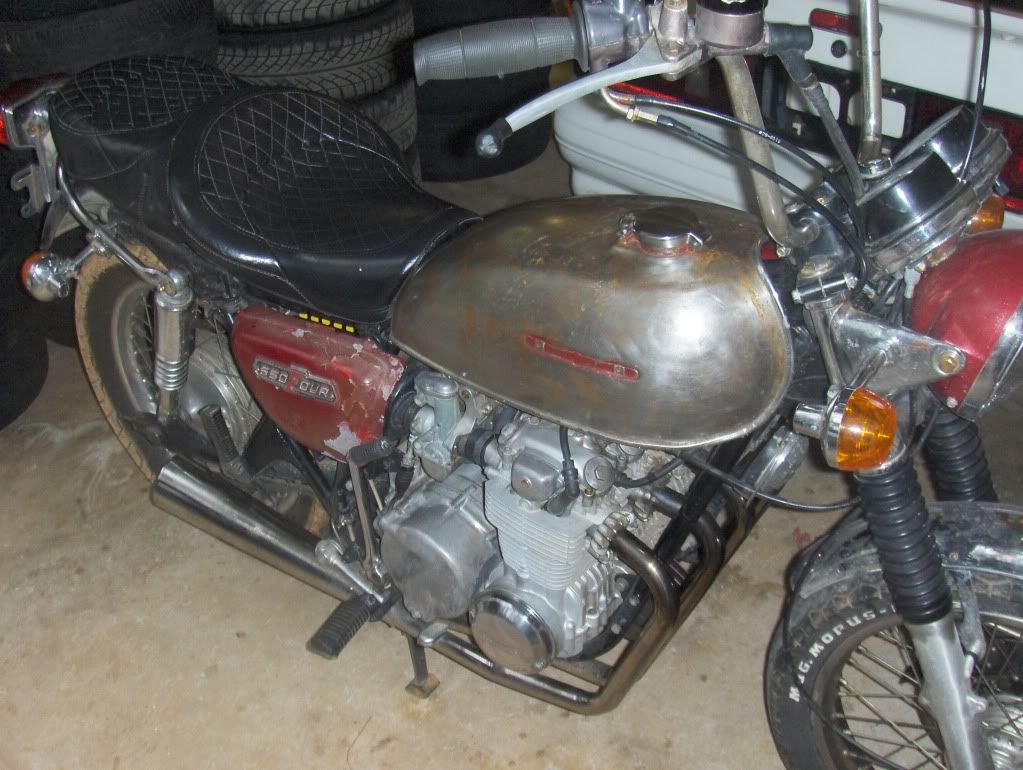 Next 12 months.
Started right in on the tear down like a newb, didnt even take advantage of having a running cycle
Thus, it was in pieces for the better part of a year. Some stuff done.
New tires
New cables
Rebuilt controls
Serviced clutch
New plugs
New bars
New turn signals
New seat and tail on old seat pan
Pulled/inspected carbs
New fuel lines
New air filter (+1hp yo)
New oil pressure sensor
New front brake line
3000 tune up (point gap, timing, cam chain tension, tappets)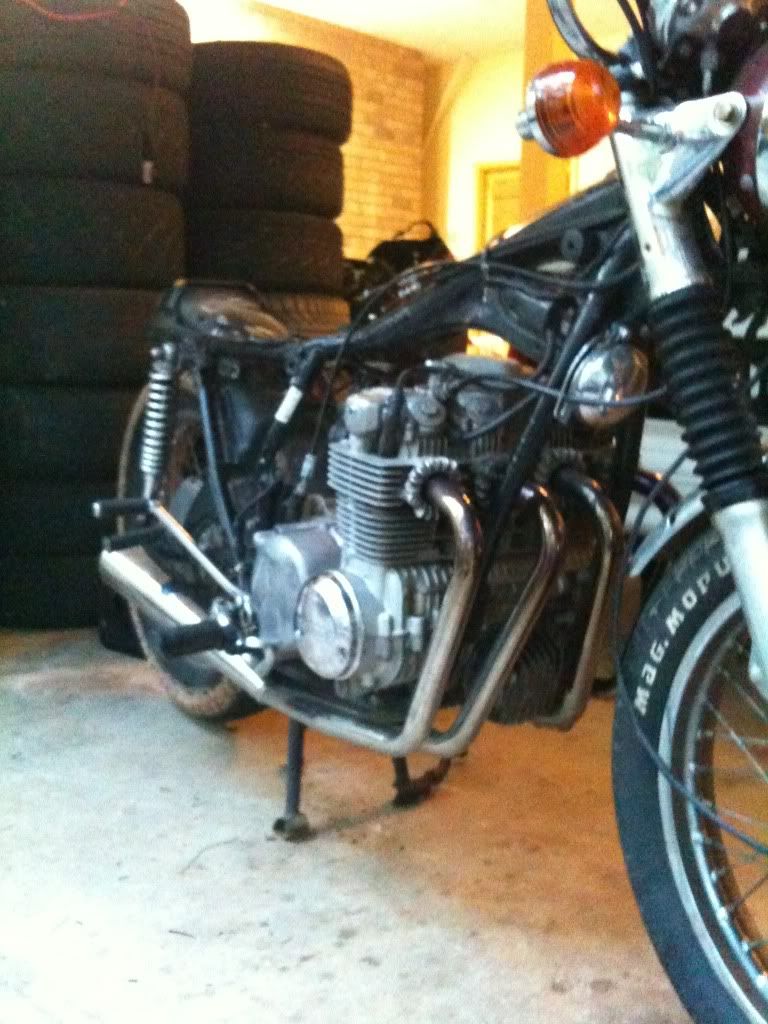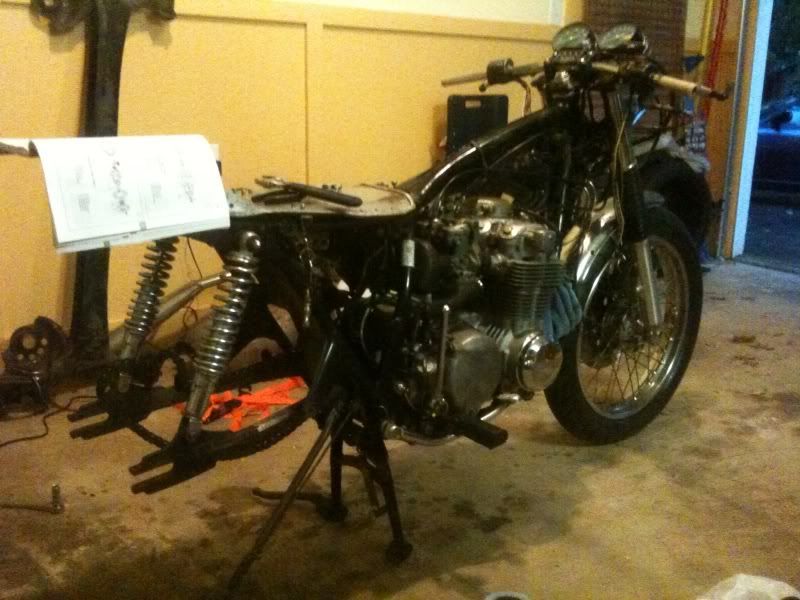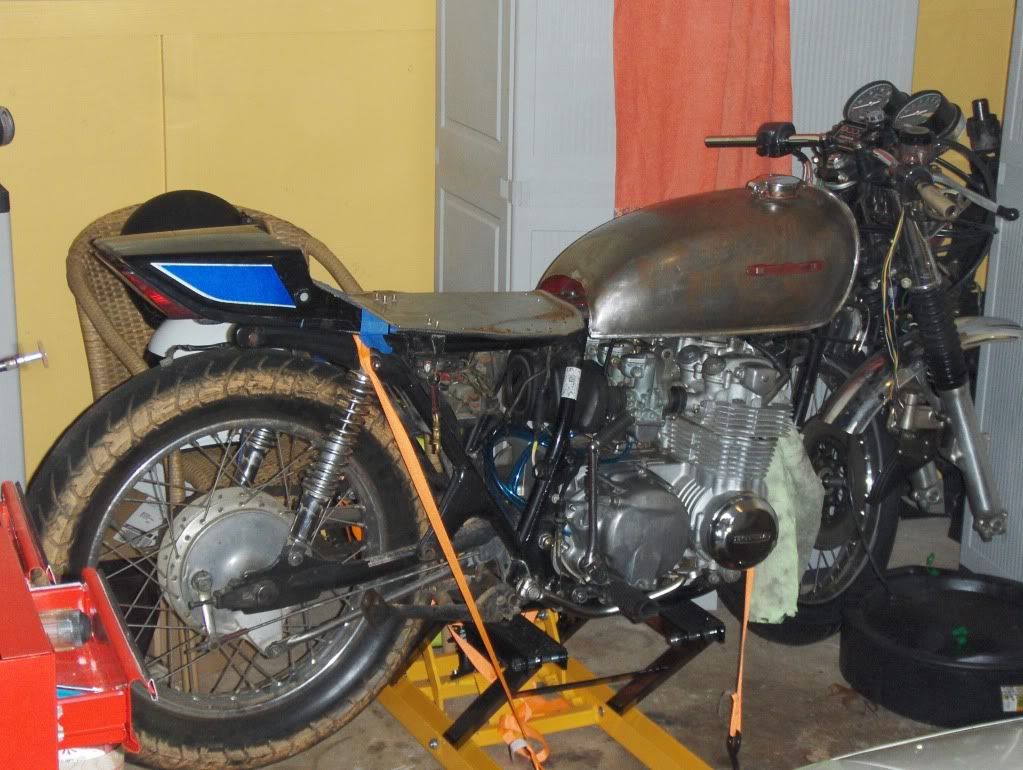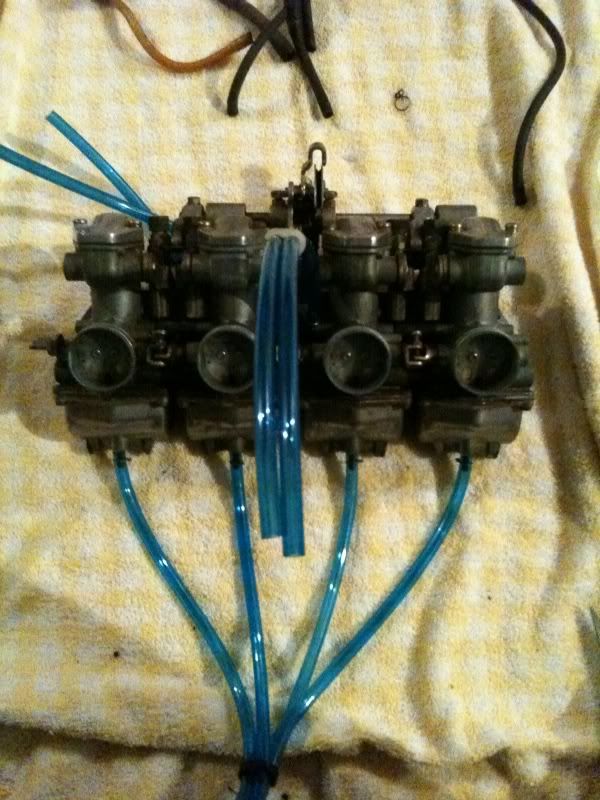 Day 364.
Got everything mostly together and started it up, ran pretty well for being down for a year almost. Ended up with some rust in my gas from having the tank empty for so long and had to pull the carbs again and flush out the bowls. Threw those back on and it is purring like a kitten (on meth).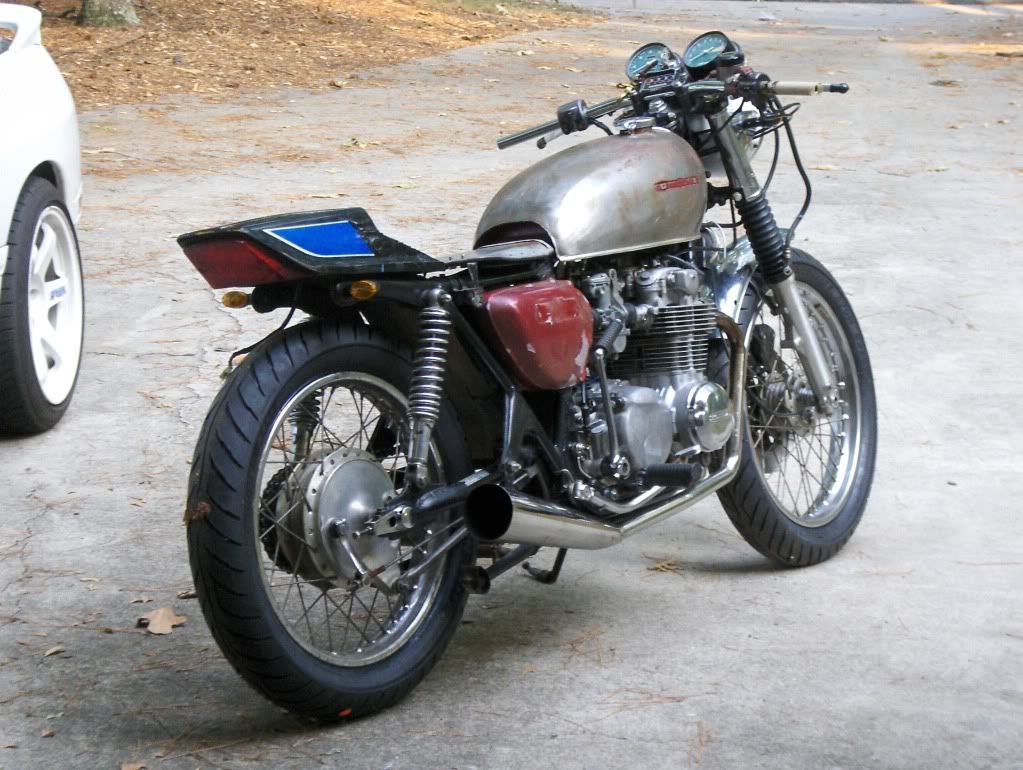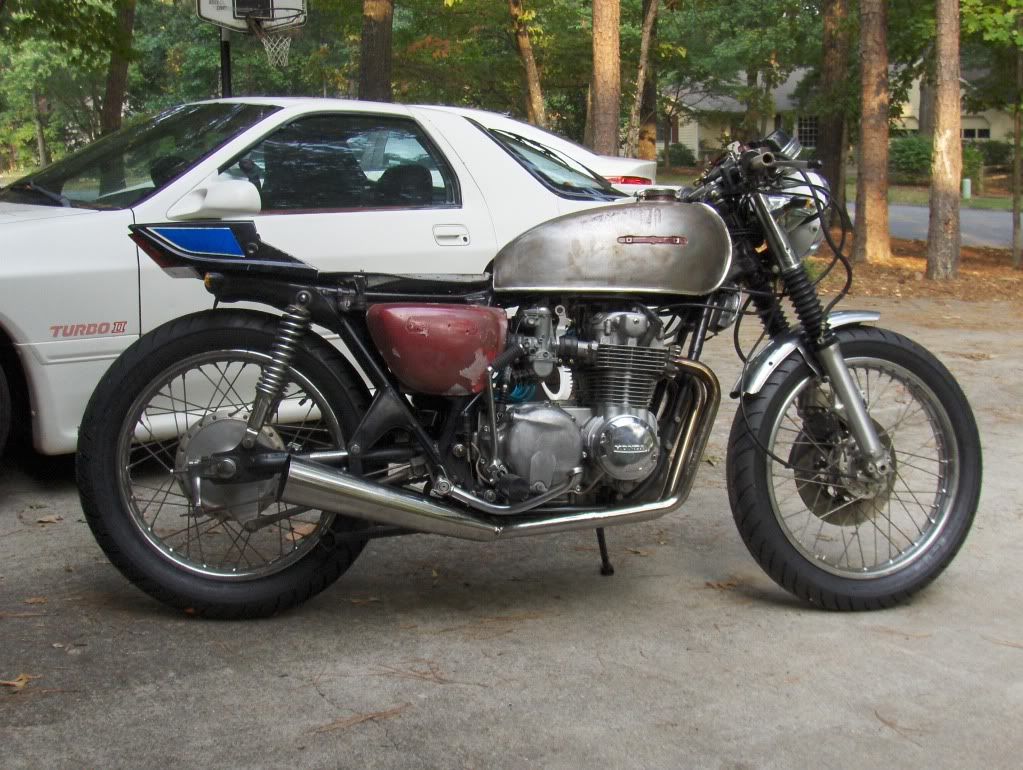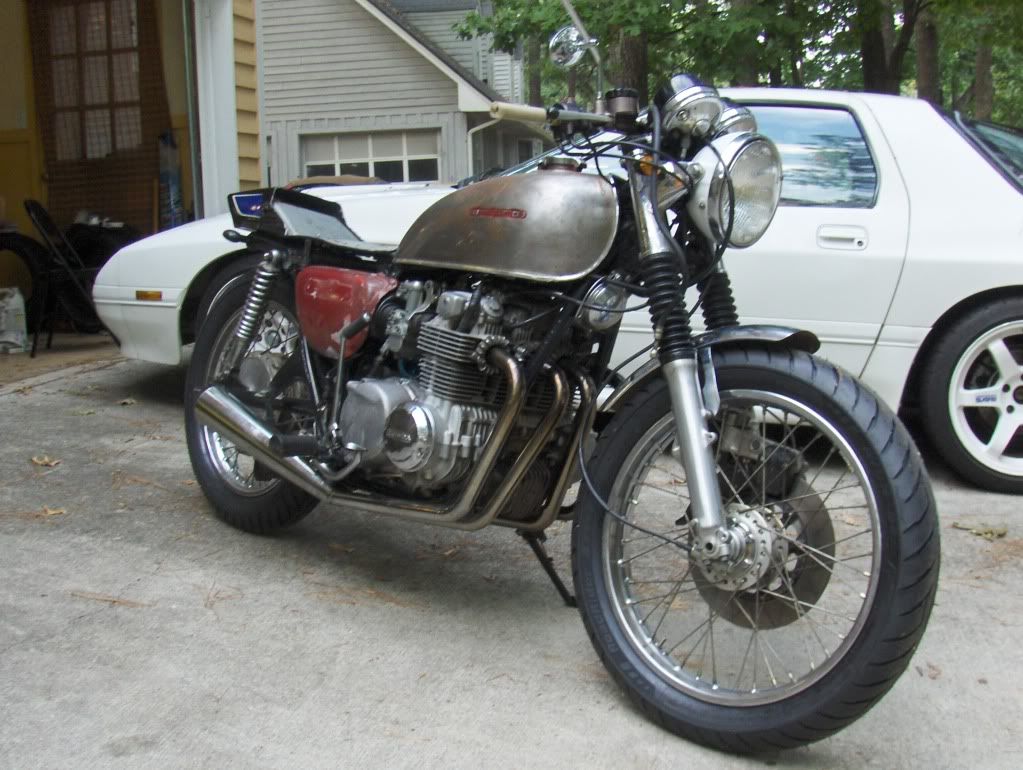 Day 365.
Went all out, sparing absolutely no expense, and rattle canned it satin black. Looked great for a few minutes.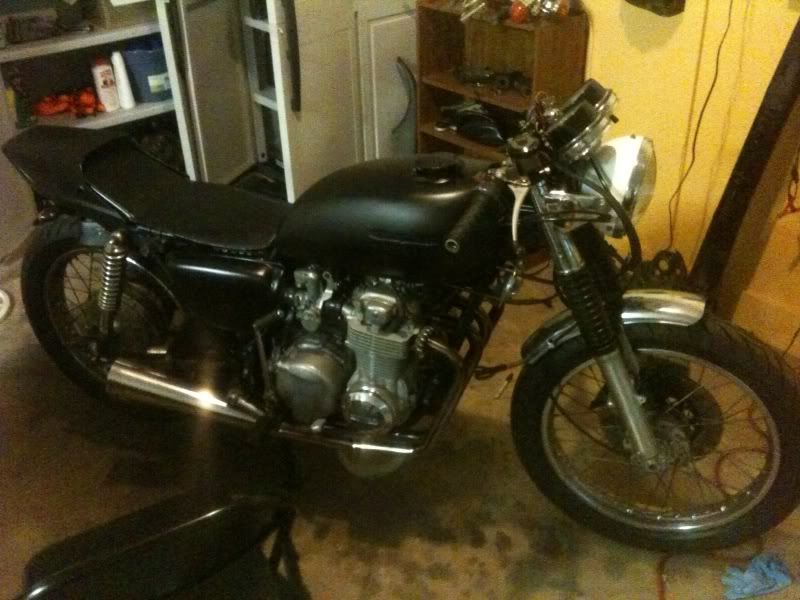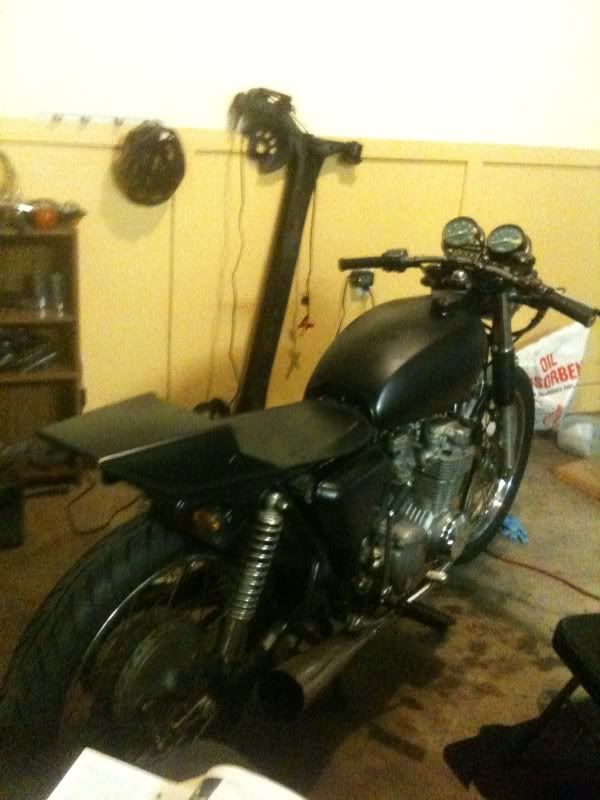 Day 366.
Took the tank off for a third coat of baller black and it was shaping up to be killer. But, the tank confessed to me that satin black was too cliche for her and committed suicide, sliding off the drying rack and getting allllll banged up in the process. Leaked some gas on the paint and killed it in a few seconds too. A from the grave kill, +10. So, back to the drawing board on that one. Probably going to source a CB550F tank, or any other one that fits. Something old and gnarly and in a retro 70's color scheme that will absolutely clash with the flat black and white. Werd.
Also got some seat foam cut and ready to get stitched on. One thing about the demise of my stock tank, its making me rethink this whole bike. Starting to go the 100% eclectic route. Pieced together, yet complete somehow. You'll see.